Say goodbye to wrinkles and fine lines with this amazing DIY anti-aging face cream, having the goodness of shea butter and frankincense essential oil. This all-natural anti-aging face cream helps restore the elasticity and firmness of your skin. Ultimately gives you youthful and glowing skin. Read on to know about the benefits and the recipe for this DIY frankincense anti-aging face cream.
---
Benefits Of DIY Frankincense Anti-Aging Face Cream
Shea Butter
Shea butter is a great emollient and moisturizer for dry skin. It seals the moisture in, preventing the skin from drying out.
It absorbs the UV radiation of the sun and protects the skin from sun damage.
It also boosts collagen production and helps tissue cell regeneration and softening of the skin. Thus it provides anti-aging benefits(source).
Shea butter's anti-inflammatory properties reduce swelling, itching, and redness. Hence, it improves the overall appearance of the skin(source).
Frankincense Essential Oil
Frankincense essential oil is one of the best essential oils with anti-aging benefits. It has cell rejuvenating properties that stimulate cell regeneration. It also has powerful antioxidants properties that protect skin cells from free radical damage. Hence It helps in softening fine lines and wrinkles.
Frankincense essential oil contains antimicrobial properties and anti-inflammatory properties. This helps in healing acne and blemishes. Hence paving way for a clearer skin.
The astringent properties of the oil help to soothe the skin, tighten skin pores, and makes skin tone even.
It also balances sebum (oil) production in the skin. This helps in giving the skin an oil-free, glowing look. Its antimicrobial properties control acne breakouts.
Jojoba Oil
Jojoba oil has essential fatty acids that moisturize and nourish your skin. This makes your skin soft, smooth, and glowing.
Scientific research suggests that jojoba oil has a high content of wax esters, which makes it a good repair option for various skin diseases like acne(source). Thus it helps in achieving clear and healthy skin.
Rosehip Oil
Rosehip oil is rich in antioxidant properties that neutralize damage-causing free radicals. This helps in preventing premature skin aging.
It contains vitamin C that helps in boosting collagen production. This improves your skin's elasticity and firmness.
An extract derived from rosehip known as methanolic has been shown to be an inhibitor of melanogenesis(source). This means that rosehip oil works against skin pigmentation to reduce dark spots.
Rosehip oil has fatty acids and vitamin A which moisturizes the skin. Hence making your skin soft and supple.
---
How To Make DIY Frankincense Anti-Aging Face Cream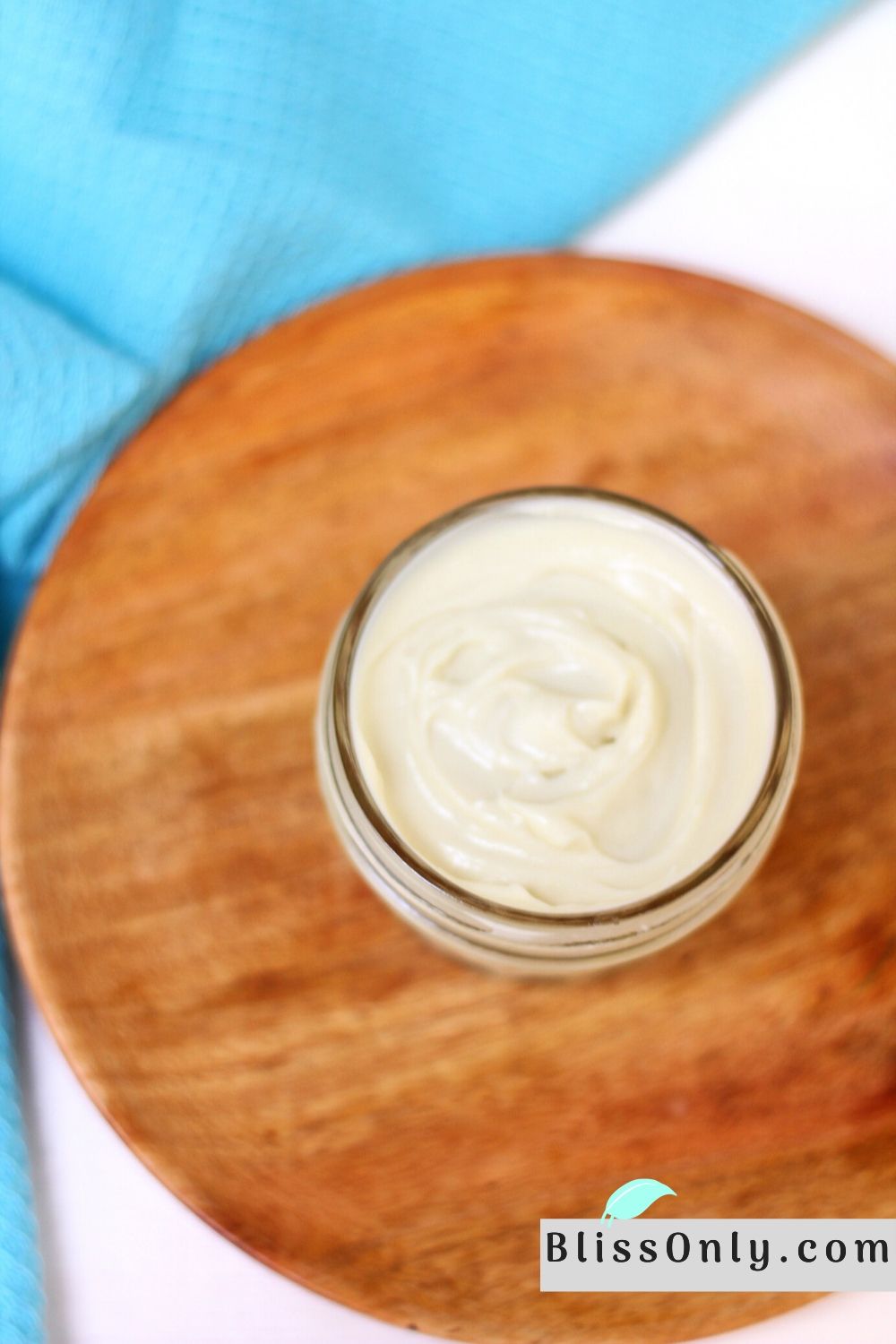 DIY Frankincense Anti-Aging Face Cream
Apply this DIY Frankincense Anti-Aging Face Cream to tackle dry and aging skin. It moisturizes and tightens skin, reduces wrinkles, scars, dark spots, age spots and nourishes skin to give you soft, smooth, firm, and glowing skin.
Recipe type: Anti-Aging Face Cream
Cuisine: DIY, Beauty
Instructions
Take a glass bowl and add shea butter to it. Put the glass bowl in a saucepan filled with a few inches of water. Heat the saucepan till the shea butter melts using a double boiler system.
Once the shea butter is melted, take it off the stove and add in rosehip oil and jojoba oil.
Allow the mixture to cool at room temperature or you can put the mixture in the refrigerator for about 30 minutes.
The mixture will become thick, opaque but not too hard.
Then, add essential oil and whip up the mixture with a hand blender until it becomes fluffy and creamy.
Store the cream in an airtight glass jar.
How To Use
To use it, scoop out a bit of the cream and apply it to your cleansed face twice a day.
Notes
1. Make sure to test this face cream on the inner arm before applying it to the face.

2. Pregnant women, infants, and young children should avoid certain essential oils. so be sure to do your homework beforehand.
---
Conclusion
Everyone desire to look younger than our age. But few of us aware of the harsh reality that applying store-bought anti-aging face creams that are loaded with harsh chemicals doesn't give the desired results. No matter how expensive they are. That's why it's better to make your own DIY anti-aging face cream with some of the best natural ingredients for aging skin like frankincense oil and shea butter. This will not only save you tons of money but also give you soft, smooth, youthful, and glowing skin.
Have you made an anti-aging face cream for yourself before? If so, I would love to hear your experience in the comments below.
---
If you liked this post, pin it.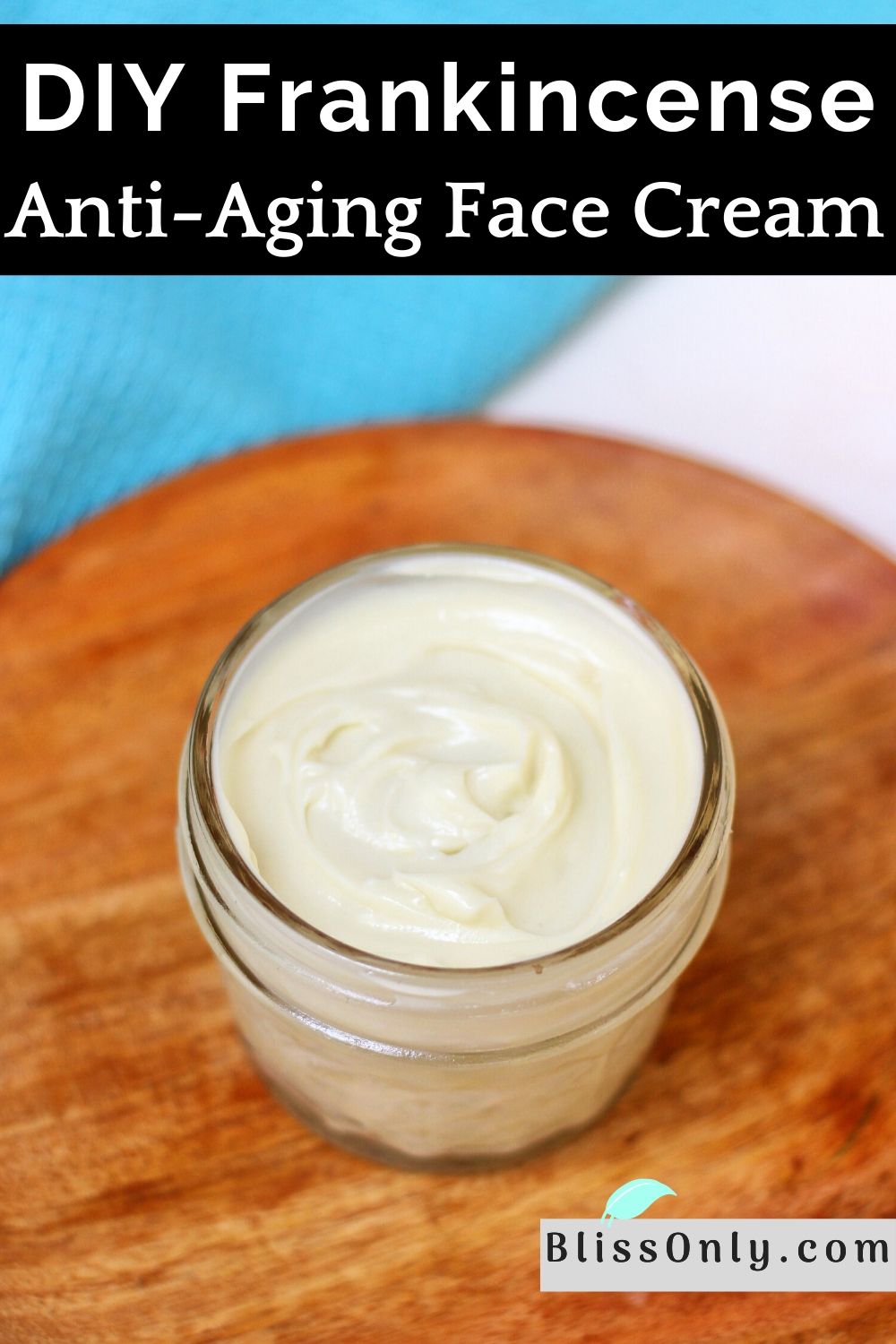 ---