Baking soda is a versatile kitchen item which, as the name suggests, is used in baking; other than being popular as a kitchen ingredient, it is also widely used for skin care. Baking soda exfoliates your skin, removing the buildup of sebum and dead skin cells. When combined with nourishing essential oils, baking soda can work wonders for your skin. So, in this post, we will be sharing a DIY baking soda scrub recipe for dark spots and blackheads.
---
Benefits Of DIY Baking Soda Scrub For Dark Spots & Blackheads
Baking Soda
Baking soda exfoliates the skin and removes dead skin cells, dirt and excess oil. This makes your skin clear and provides a natural glow to it.



Baking soda has bleaching properties that help in fading dark spots, blemishes and makes your skin tone even.

Since the exfoliating properties of baking soda unclog pores and remove impurities, it is very effective in removing blackheads.

The antimicrobial properties of baking soda also help in preventing acne breakouts.

Lavender Essential Oil
Lavender essential oil reduces skin inflammations due to its potent anti-inflammatory properties. Therefore it soothes and reduces swelling, redness, and irritation.




Lavender essential oil is full of antioxidants, which helps in protecting and repairing skin cells. It also reduces the appearance of fine lines and wrinkles. Hence keeping your skin youthful.



Lavender essential oil can fight against acne too. It has anti-inflammatory and antiseptic properties that eliminate acne-causing bacteria.

Jojoba Oil
Jojoba oil contains essential fatty acids that moisturize and nourish your skin. This makes your skin soft and smooth.




Jojoba oil has a high content of wax esters, which makes it a good repair option for various skin ailments like acne.

(

source

)

Tea Tree Essential Oil
Tea tree essential oil is a proven remedy for acne(

source

) It also has antimicrobial properties, which are effective against bacterial, viral, fungal, and protozoal infections affecting the skin(

source

). Hence keeps your skin healthy.


It has antioxidant properties too, which neutralize free radicals and prevent premature skin aging.
---
How To Make DIY Baking Soda Scrub For Dark Spots & Blackheads
DIY Baking Soda Scrub For Dark Spots & Blackheads
Baking soda scrub helps to get rid of excess dirt, blackheads, acne scars and dark spots. It prevents acne and unclogs blocked pores. It gives a smooth, clear and fresh skin.
Recipe type: Baking Soda Scrub
Cuisine: DIY, Beauty
Instructions
In a bowl, mix together baking soda, jojoba oil, and the essential oils properly.
How To Use
Cleanse your face or body with cleanser and apply the scrub to your wet skin.
Gently massage the scrub onto your skin in a circular motion for 1-2 minutes.
Leave it for about 2-3 minutes.
Now rinse it off well.
Finish by applying moisturizer on your face or body.
Repeat it once or twice a week.
Notes
You can store the rest of the mixture in an airtight glass jar.
---
Precaution
Although these facial or body scrubs are very beneficial and safe to be used on the skin, it is important you take the following precautions before using it.
This may sting on sensitive skin, any wound, and scratched pimples but if it stings more than 1 minutes, immediately remove the mask from the face and clean it with water and apply aloe vera or witch hazel.

Make sure to patch test the face scrub to make sure your skin doesn't have an adverse reaction to oils. The inner forearm is a great place to do the test since the skin is delicate and similar to facial skin.

Additionally, pregnant women, infants, and young children should avoid certain essential oils. so be sure to do your homework beforehand.

Keep the glass container away from sunlight.

---
Conclusion
Once in a while, it is important to scrub your face as it leads to the removal of dead skin cells and other impurities, therefore giving you clear, glowing skin. Baking soda is a good exfoliator. This face scrub has the power of jojoba oil and two essential oils too. So use this baking soda face scrub to give your face the much-needed boost. Also, do not forget to share your experience in the comments below.
---
If you liked this post, pin it.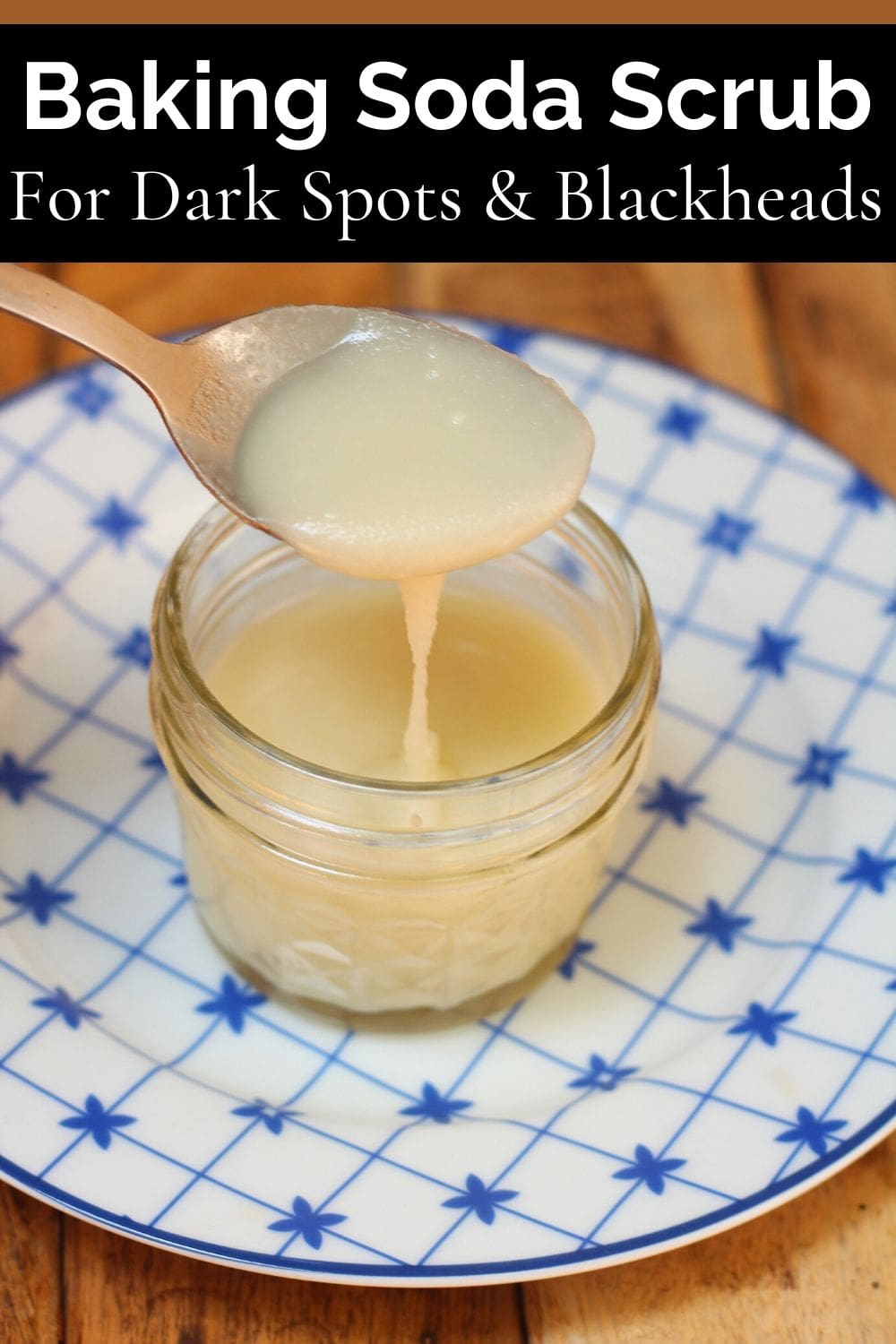 ---