Frankincense oil is one of the most popular essential oil used for skincare. It is very moisturizing for the skin which makes your skin soft and smooth. It is packed with antioxidants that give anti-aging benefits to the skin. Frankincense essential oil restores lost collagen in your skin. This makes your skin firm and youthful. It also works great for healing scars, fading dark spots, and other pigmentation. To sum up, you can say that including frankincense essential oil in your daily skincare routine can help you get flawless and youthful skin. So, in this post, I am going to share a DIY frankincense anti-aging face serum recipe.
This frankincense anti-aging face serum is made with just three ingredients. So you don't have to spend your precious time to make it. This face serum contains rosehip oil, frankincense essential oil and rose essential oil. All of these three ingredients work effectively on aging skin and reduce the appearance of wrinkles.
Now let's see why this DIY frankincense anti-aging face serum works.
---
Benefits Of DIY Frankincense Anti-Aging Face Serum
Frankincense Essential Oil
Free radicals often damage skin cells. This leads to premature skin aging and the formation of wrinkles. Frankincense oil contains powerful antioxidant properties that eliminate harmful free radicals and prevent cell damage. This helps slow down the skin's natural aging process.
It stimulates collagen production which improves your skin's elasticity and firmness. This helps in reducing the appearance of fine lines and wrinkles.
It is very effective in healing dry and flaky skin. It hydrates your dried skin cells which make your skin soft and plump. Keeping skin cells hydrated is another anti-aging benefits that frankincense oil provides to your skin, as dry skin can also lead to premature skin aging.
Frankincense oil deeply penetrates the skin to remove dead skin cells and stimulate healthy cell regeneration. This allows the skin to keep rejuvenated cells at the surface. Hence, your skin looks youthful and naturally glowing.
It also works great for fading scars, dark spots and age spots, making your skin tone even.
Also Read: 7 Frankincense Essential Oil Uses For Skin
---
Rosehip Oil
It contains antibacterial and antifungal properties. This helps to kill bacteria, fungi, and other harmful microbes feeding off your skin. Hence makes your skin healthy.
It contains vitamin C and vitamin E which are powerful antioxidants that fight free radicals. This way rosehip oil works to prevent cell damage and reduce the appearance of wrinkles.
Rosehip oil is an excellent moisturizer for dry, flaky skin. It contains vitamin A which helps to deeply penetrate your skin and replenish the lost moisture. It contains linoleic acid which balances the sebum production in the skin. This keeps the moisture locked in your skin.
---
Rose Essential Oil
It is very hydrating for the skin. It restores the lost moisture in your skin which rejuvenates the dull skin cells. This helps improve your skin's appearance.
It is another ingredient in this face serum that helps combat aging skin. The powerful antioxidant properties of rose essential oil protect your skin cells from damage-causing free radicals. This helps slow down skin aging.
Rose essential oil has anti-inflammatory properties that soothe swelling, redness, and irritation on your skin.
---
How To Make DIY Frankincense Anti-Aging Face Serum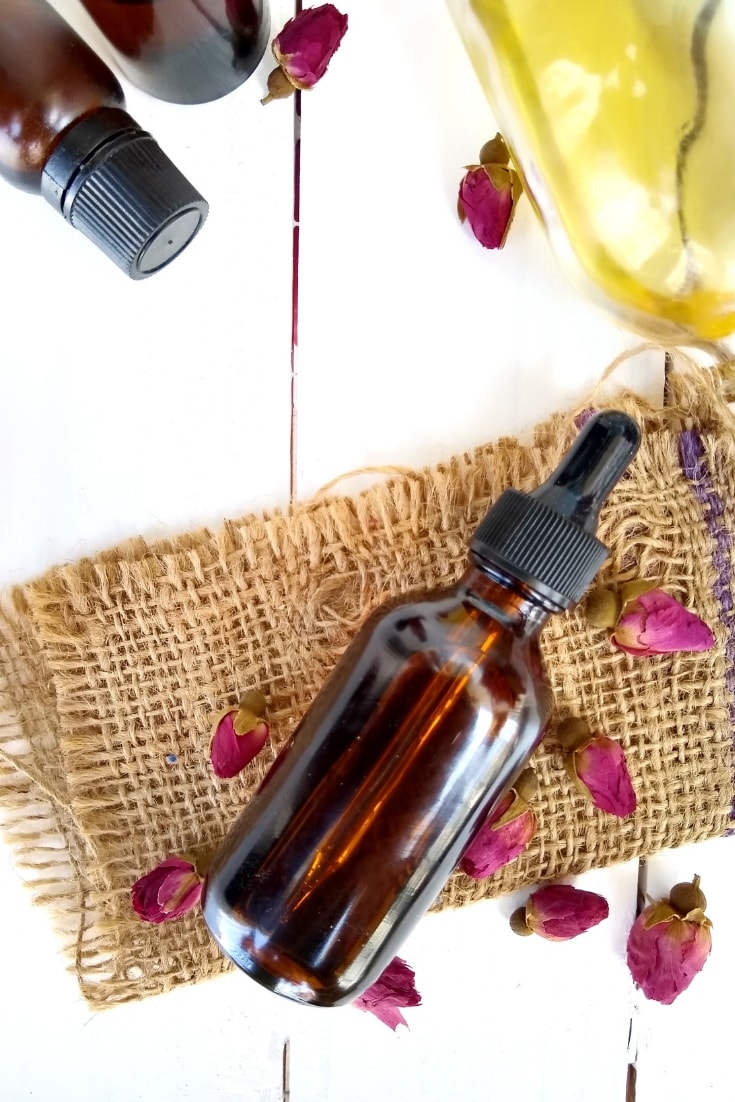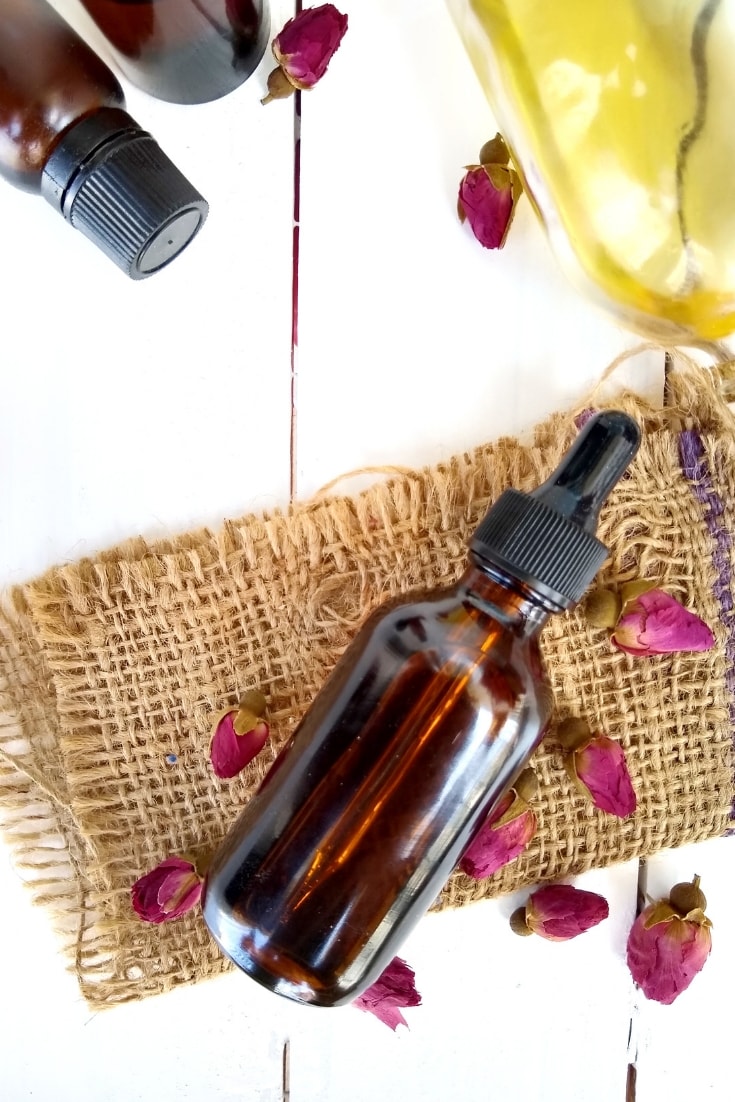 DIY Frankincense Anti-Aging Face Serum
Rejuvenate your skin with this DIY frankincense anti-aging face serum. It moisturizes skin,reduce wrinkles,fades age spots, scars and makes skin glowing.
Recipe type: Anti-Aging Face Serum
Cuisine: DIY, Beauty
Instructions
Add rosehip oil into the dark-colored bottle using a funnel.
Now add essential oils carefully to the serum bottle.
Shake gently to combine all the ingredients.
How To Use
Take 4-5 drops of face serum on your cleansed palm and apply the oil to the skin
Massage gently for 2-3 minutes.
You can apply the serum on your cleansed face twice a day, i.e. in the morning and in the night before bed.
---
Precaution
Be sure to do a patch test to make sure your skin does not have an adverse reaction to the oils used in a face serum. The inner forearm is a great place to do a test since the skin is delicate, similar to facial skin.
Keep the glass container of face serum away from sunlight.
Pregnant women, infants, and young children should avoid certain essential oils. So make sure to consult your medical practitioner beforehand.
Do not put essential oils in your eyes, ears, nose, or mucous membranes.
---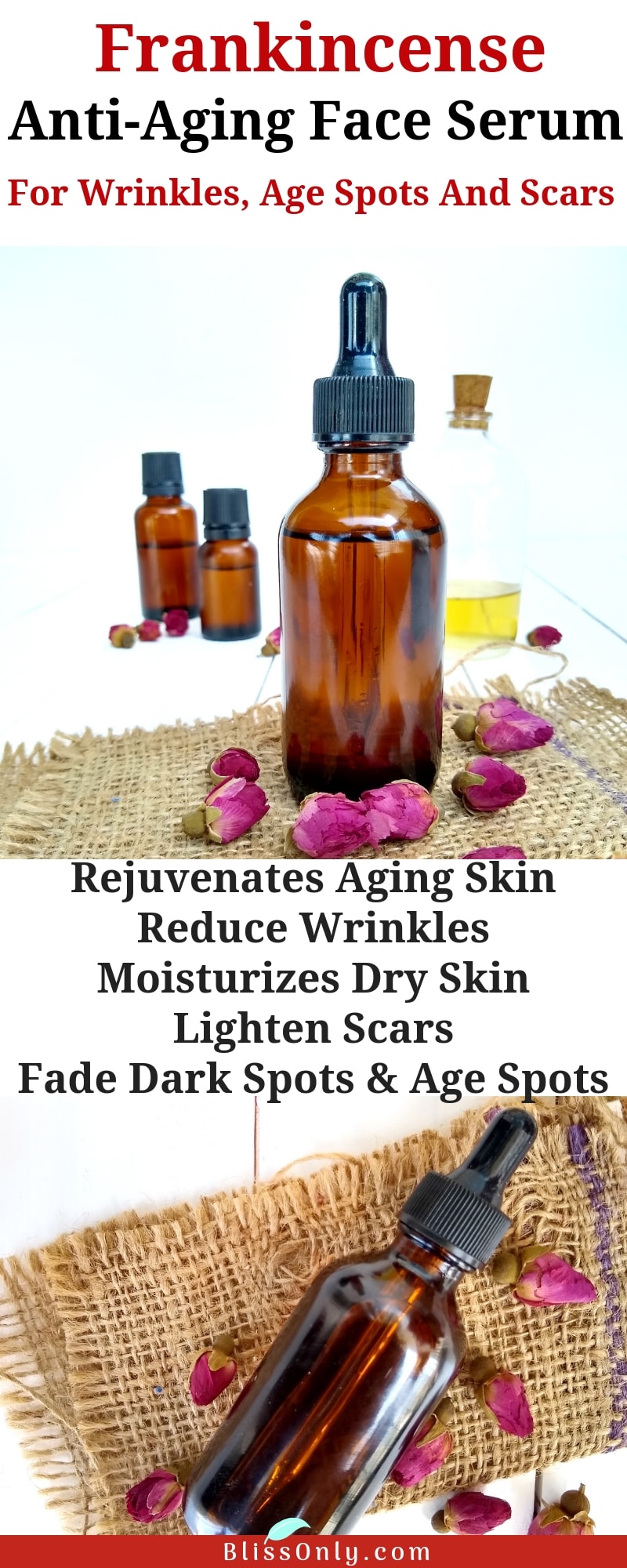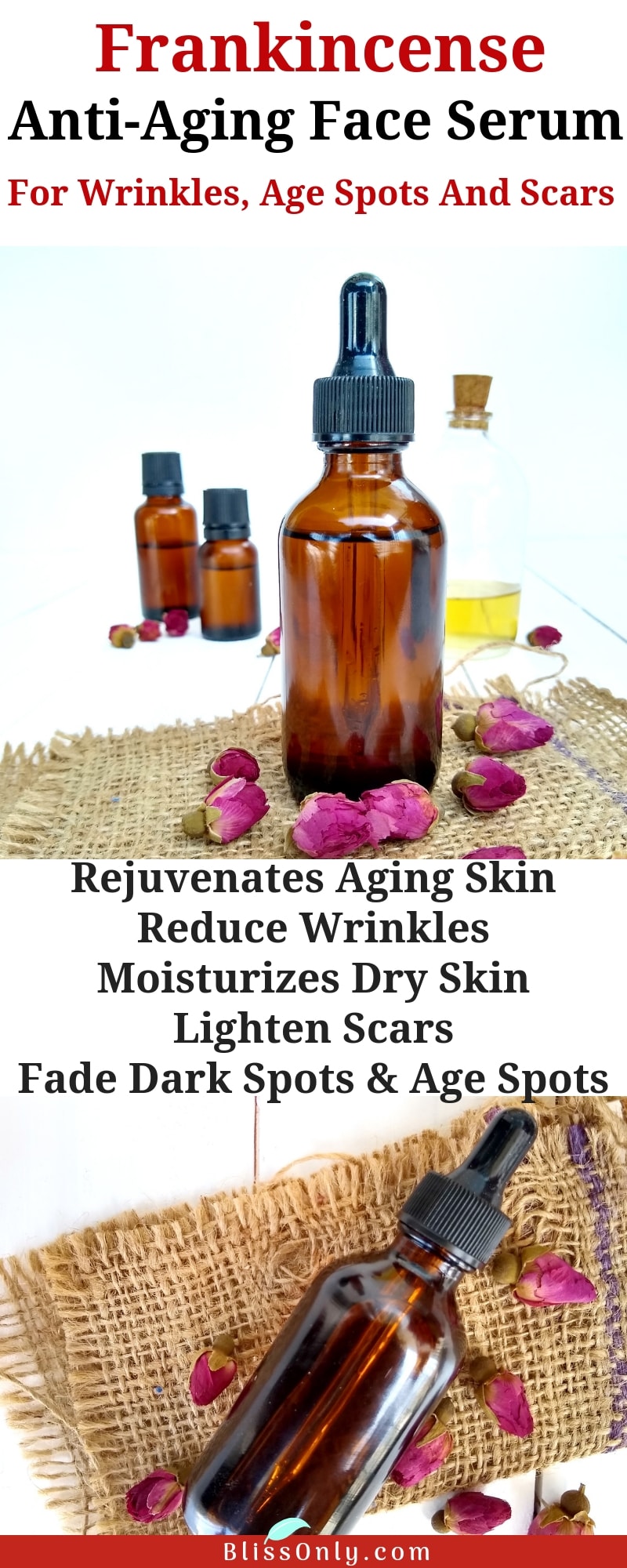 ---