Wrinkles and age spots are unflattering yet inevitable signs of aging. They are usually found in old people, but nowadays even 30-somethings are grappling with these problems. While you cannot stop your skin from aging, you can definitely delay the signs by using the right products, just like this DIY anti-aging vitamin C face serum. Read on to find out the benefits of this serum as well as the procedure.
---
Why Vitamin C Serum For Wrinkles?
Vitamin C
With age, the skin loses its elasticity and strength. This leads to the formation of wrinkles. So, vitamin C is important to keep the skin firm and wrinkle-free.
Free radical damage to the skin is the leading cause of age spots and wrinkles. Vitamin C is a potent antioxidant. It protects the skin from oxidative stress by neutralizing the free radicals(source).
Vitamin C is a depigmenting agent, which decreases the skin's melanin formation to reduce dark spots. It helps to keep the skin even-toned and glowing(source).
Rosewater
Rosewater exfoliates the skin and removes dead skin cells and impurities. It also balances oil production in the skin.
It maintains the skin's pH, which is very important for healthy skin.
Glycerine
Glycerine hydrates your skin. It acts as a humectant. This means it allows the skin to retain moisture.
It is also an emollient that works to make your skin soft.
Witch Hazel
Witch hazel works great on reducing inflammation. It soothes redness and relieves itching.
It has antibacterial properties that help treat acne.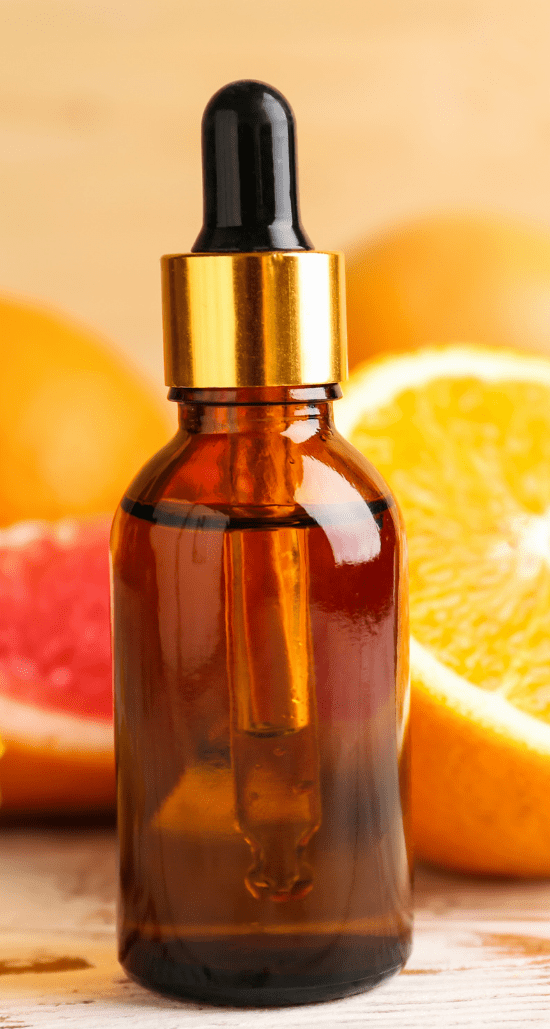 ---
How To Make DIY Anti-Aging Vitamin C Face Serum?
DIY Anti-Aging Vitamin C Face Serum
Rejuvenate your skin with this DIY anti-aging vitamin C face serum. It moisturizes skin, reduces wrinkles, fades age spots, scars and makes skin glowing.
Recipe type: Anti-Aging Vitamin C Face Serum
Cuisine: DIY, Beauty
Instructions
Combine rose water and glycerine in a glass bowl.
Add vitamin C powder and mix it well.
Now add witch hazel and mix all the ingredients properly.
Pour the mixture into a dark-colored glass dropper bottle using a funnel and again shake the bottle for 1 minute.
Store this serum in the fridge for 1 week. It has a shorter shelf life because the Vitamin C oxidizes in the water over time.
You can apply the serum on your cleansed face at night, before bed.
Notes
1. Make sure to test the serum on the inner arm before applying it to the face.

2. Do not add extra vitamin C as it is acidic and can burn the skin if the concentration is too high.

3. Vitamin C Serum must not be used during the day due to sun exposure.
---
If you liked this post, pin it.