Sleeping Beauty has been part of folklore and movies for decades, but did you know that sleeping actually enhances your beauty? During the night while we are resting, the skin is working to repair cells. A night cream thus is beneficial in accelerating the process and providing essential nutrients. This DIY anti-aging night cream has potent ingredients which are helpful in keeping the skin healthy and young. Read on to find out the benefits of each ingredient and the recipe for the cream.
---
Why Does This Night Cream Work?
Shea Butter
Shea butter is a great emollient and moisturizer for dry skin. It seals the moisture in, preventing the skin from drying out(source).
It also boosts collagen production and helps skin cell regeneration. Therefore, making skin soft and smooth.
Shea butter has anti-inflammatory properties. It soothes inflammation, itching, and redness. Hence, it improves the overall appearance of the skin.
Almond Oil
Almond oil has fatty acids that moisturize skin. It is an effective remedy for dry skin conditions(source).
It also protects the skin from the damage caused by UV radiation due to the presence of vitamin E.
It has vitamin A which stimulates the production of new skin cells and improves the texture of the skin.
Rosehip Oil
Rosehip oil has powerful antioxidants that neutralize harmful free radicals. It also works to repair damaged skin cells.
It is rich in vitamin C that replenishes the lost collagen in your skin. This improves your skin's elasticity and firmness. Hence reduces the appearance of wrinkles(source).
It has fatty acids and vitamin A that moisturizes the skin. Hence making it soft and supple.
Lemon Essential Oil
The lemon essential oil has antimicrobial properties. It keeps away harmful bacteria and fungi to protect the skin from infections.
It is rich in antioxidants, which keep the skin healthy.
It exfoliates the skin to remove dead skin cells. Hence helps in making the skin brighter and clearer.
Sweet Orange Essential Oil
Sweet orange essential oil is rich in vitamin C, which is important to keep the skin firm and wrinkle-free.
Vitamin C is also a depigmenting agent. It makes your skin even-toned and reduces dark spots.
It also boosts circulation in the skin and works as an astringent to shrink pores and remove excess oil.
Frankincense Essential Oil
Frankincense essential oil stimulates cell regeneration. It also protects older cells from free radical damage. Hence giving you youthful and glowing skin.
It has anti-inflammatory properties that reduce swelling and redness. It also improves the overall appearance of the skin.
---
How To Make DIY Anti-Aging Night Cream?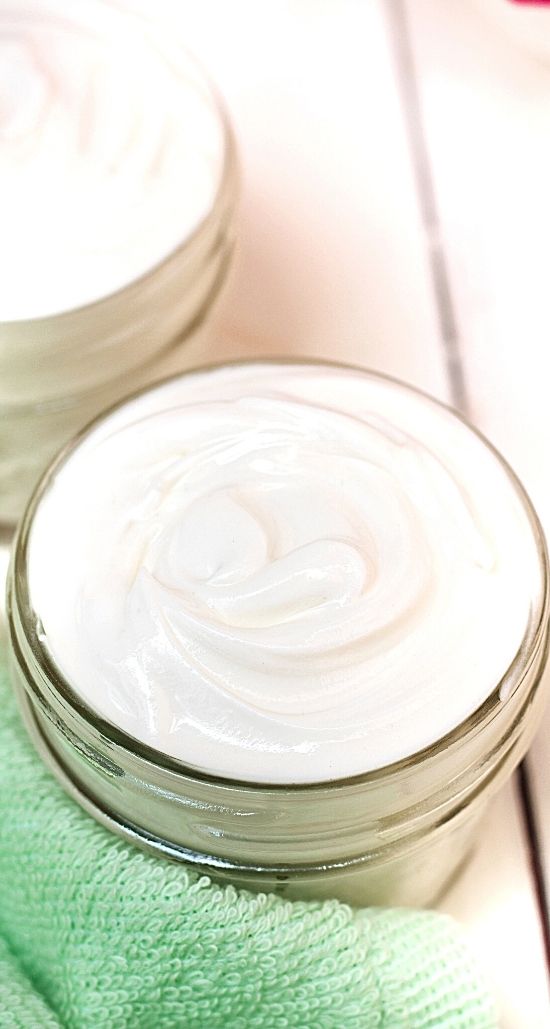 DIY Anti-Aging Night Cream For Gorgeous Skin
Apply this DIY Anti-Aging Night Cream to tackle dry and aging skin. It moisturizes and tightens skin, reduces wrinkles, scars, dark spots, age spots and nourishes skin to give you soft, smooth, firm, and glowing skin.
Recipe type: Anti-Aging Night Cream
Cuisine: DIY, Beauty
Instructions
Take a glass bowl and add shea butter to it.
Put the glass bowl in a saucepan filled with a few inches of water.
Heat the saucepan till the shea butter melts using a double boiler system.
Once the shea butter is melted, take it off the stove and add in rosehip oil and almond oil.
Allow the mixture to cool at room temperature or you can put the mixture in the refrigerator for about 30 minutes.
The mixture will become thick, opaque but not too hard.
Then, add essential oils and whip up the mixture with a hand blender until it becomes fluffy and creamy.
Store the cream in an airtight glass jar.
How To Use
To use it, scoop out a bit of the cream and apply it to your cleansed face at night.
Notes
1. Make sure to test this night cream on the inner arm before applying it to the face.

2. Pregnant women, infants, and young children should avoid certain essential oils. so be sure to do your homework beforehand.
---
If you liked it, pin it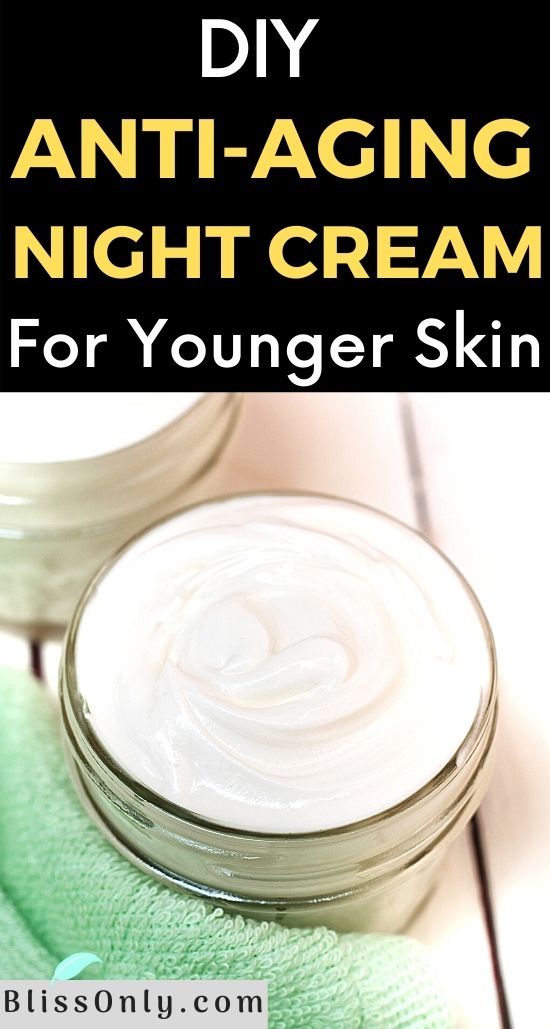 ---