Dirt, oil, pollution and too much sun exposure make your skin dull and unhealthy. That's why exfoliation is considered very important for the skin. There is a number of chemical-laden scrubs available in the market that may work. But most of the time we end up facing their side effects. So, in this post, I will be sharing the amazing all-natural DIY exfoliating coffee scrub recipe that will help you get healthy, clear and glowing skin. This coffee scrub is made with just 4 ingredients. So, you don't have to put a lot of time and effort to make it. Keep reading to find out more about it.
Before I explain how to make this DIY coffee scrub let me explain why this scrub is so good for the skin.
---
Benefits of Coffee Scrub
This coffee scrub works very effectively for skin problems like excess sebum production, clogged skin pores, blackheads, dead skin, etc.
Coffee
Coffee granules exfoliate the skin and remove the excess oil, dirt and dead skin cells that might have clogged pores. This makes your skin clear and smooth.
Scrubbing coffee on the skin leads to the stimulation of blood circulation which leads to healthy and glowing skin. Also, it contains melanoidins which are very effective in reducing hyperpigmentation.
Coffee is known to reduce the signs of aging like fine lines, wrinkles and age spots. It contains antioxidants that neutralize damage-causing free radicals. It also repairs damaged skin cells and promotes cell regeneration. Therefore keeping your skin youthful.
According to a study, the caffeine content in coffee is used as an active compound in cosmetics because it has antioxidant properties that help in protecting the skin from damage done by harmful UV rays and slows down the process of photoaging of skin (source).
Caffeine moisturizes the skin and prevents the cellulite or accumulation of fat in cells from the skin and makes it look soft and plumpy. The caffeine content in coffee is known to help dilate blood vessels, which are responsible for dark circles.
It contains anti-inflammatory properties that reduce redness, swelling, and irritation in your skin.
Brown Sugar
The granules of brown sugar are very fine, thus it gently scrubs and exfoliates the skin. It contains alpha hydroxyl acid which penetrates into the skin and breaks down the compound that binds the skin cells, for promoting cell generation and skin rejuvenation.
Brown sugar has powerful anti-bacterial properties. This helps in protecting your skin from harmful bacteria. Hence keeps your skin healthy.
It is popularly known as a natural humectant i.e. it attracts natural moisture and seals it in your skin. This makes your skin soft and properly hydrated.
Coconut Oil
Coconut oil deeply penetrates your skin and moisturize it. This helps in healing dry and flaky skin. According to a study, where few patients out of a total of 34 patients applied coconut oil and the rest applied a mineral oil for 2 weeks, it was found that coconut oil is as effective as mineral oil for hydrating and moisturizing the skin (source).
 Just like coffee, coconut oil also has powerful antioxidants. It contains vitamin E which helps in slowing down the process of aging and also repairs the damage caused by free radicals and sun rays.
Frankincense Essential Oil
Frankincense essential oil stimulates collagen production which improves your skin's elasticity and firmness. This helps in reducing the appearance of fine lines and wrinkles.
It also works great for fading scars, dark spots and age spots, making your skin tone even.
Frankincense oil deeply penetrates the skin to remove dead skin cells and stimulate healthy cell regeneration. This allows the skin to keep rejuvenated cells at the surface. Hence, your skin looks youthful and naturally glowing.
Also Read: 7 Frankincense Essential Oil Uses For Skin
---
How To Make DIY Exfoliating Coffee Scrub For Glowing Skin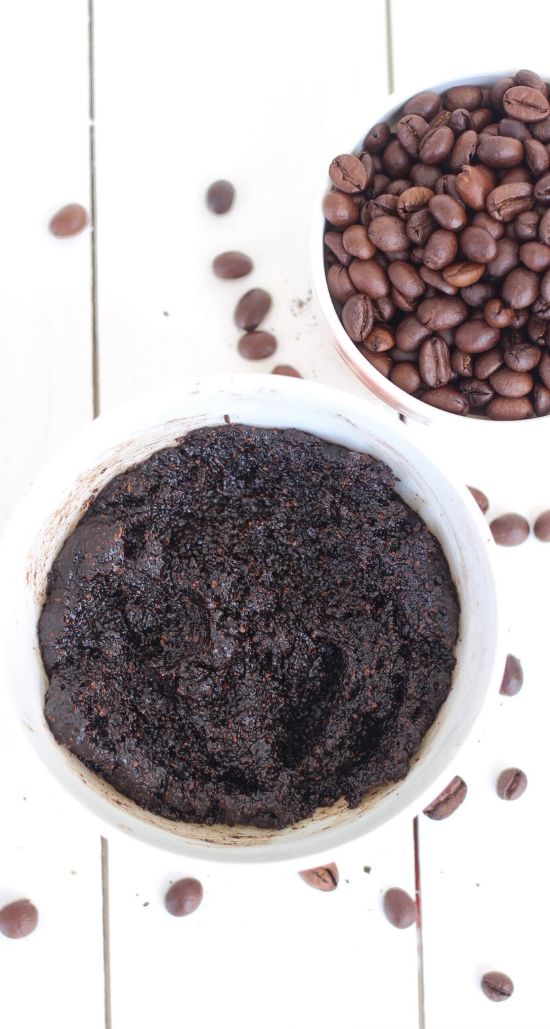 DIY Exfoliating Coffee Scrub For Glowing Skin
DIY coffee scrub recipe for face and body that exfoliates and tightens skin. Its benefits include moisturizing skin, reducing cellulite, fine lines, wrinkles, improving blood circulation, and make skin glowing.
Recipe type: Coffee Scrub
Cuisine: DIY, Beauty
Instructions
Take a bowl and mix sugar and coffee ground.
Now add coconut oil and mix all the ingredients properly.
How To Use
Gently massage the mixture onto your skin in a circular motion for 2-3 minutes before going for the shower.
After your shower, pat your skin dry and apply moisturizer.
Repeat it 2-3 times a week for the desired result.
Notes
1. You can adjust the ratio according to your needs.

2. Store the mixture in an airtight jar for future use.
---
Precaution
Be sure to do a patch test to make sure your skin does not have an adverse reaction to the oils used in this scrub. The inner forearm is a great place to do a test since the skin is delicate, similar to facial skin.
Keep the glass container of scrub away from sunlight.
Pregnant women, infants, and young children should avoid certain essential oils. So make sure to consult your medical practitioner beforehand.
Do not put essential oils in your eyes, ears, nose or mucous membranes.
---
Conclusion
Coffee is one of the best gifts to mankind by nature. We should use it as much as possible. It not only provides us skin benefits but also relieves us from stress and anxiety. So please try this coffee scrub to get clear, bright and fresh skin. Also, don't forget to share your experience with me in the comments.
---
If you liked this post, pin it.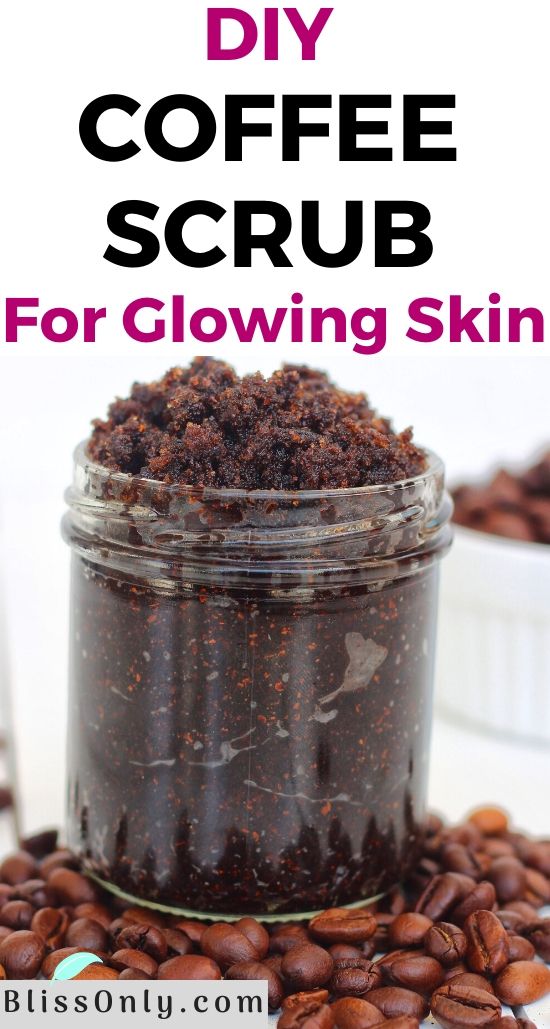 ---