Coffee is an energy booster. So much so that most people cannot even start their day without having a cup of coffee the first thing in the morning. The caffeine content of coffee, which helps to keep you alert and awake, can also be used to make your eyes look less tired. That's why I have come up with this DIY coffee under-eye cream that helps reduces dark circles, puffiness, wrinkles, and keep the skin youthful around the eyes. Read on to find out the benefits and the procedure for this under-eye cream.
---
Benefits Of DIY Coffee Under-Eye Cream For Wrinkles, Dark Circles, And Puffy Eyes
Coffee Grounds
The caffeine present in coffee protects the skin from UV rays-induced photodamage. It protects the skin cells or tissues from oxidative stress-induced cellular senescence(source). This means it keeps the skin cells revitalized and prevents signs of aging like crow's feet around the eyes.
Caffeine has anti-inflammatory properties that reduce puffiness under the eyes.
Caffeine also improves blood circulation in the skin. This helps in reducing the appearance of dark circles.
Coffee grounds properly exfoliate the skin to remove excess oil and dirt, unclog pores, smoothen, and tighten the skin to improve the overall appearance of the skin.
Frankincense Essential Oil
Frankincense essential oil is one of the best essential oils for reducing fine lines and wrinkles. It is full of powerful antioxidants that neutralize damage-causing free radicals. Hence it keeps the under-eye area firm and youthful.
Frankincense essential oil boosts collagen production in the skin. This is instrumental in reducing dark circles under the eyes and helps in soothing the under-eye bags.
Here is the video explaining why frankincense oil is so effective in reducing dark circles.
Jojoba Oil
Jojoba oil has anti-inflammatory properties(source). It soothes the skin and reduces irritation and redness, which makes it a useful ingredient to be used in an under-eye cream.
It hydrates the skin, replenishes the lost moisture, and soothes it to reduce the occurrence of puffy eyes.
Shea Butter
Shea butter is a great emollient and moisturizer for dry skin. It seals the moisture in, preventing the skin from drying out.
Shea butter's anti-inflammatory properties reduce swelling, itching, and redness(source).
Rosehip Oil
Rosehip oil is rich in carotenoid pigments and is a strong antioxidant, which can inhibit the synthesis of MMP-1, an enzyme responsible for the breakdown of collagen(source). Thus, rosehip oil prevents the sagging of the skin under the eyes.
It also stimulates healthy cell regeneration of skin cells. This helps in reducing dark circles and keeps your under-eye area youthful.
Vitamin E Oil
Too much exposure to UV rays can lead to wrinkles around the eyes. Vitamin E oil has photoprotective and anti photoaging properties(source). This means that it protects the skin from the adverse effects of UV radiation.
This oil also nourishes and moisturizes your skin, making it smooth, soft, and glowing.
Beeswax
Beeswax forms a protective layer on the skin's surface, locking in moisture and preventing the skin from drying out. It keeps the skin soft and supple.
It soothes the skin and can be used on sensitive skin too, like your under-eye area.
---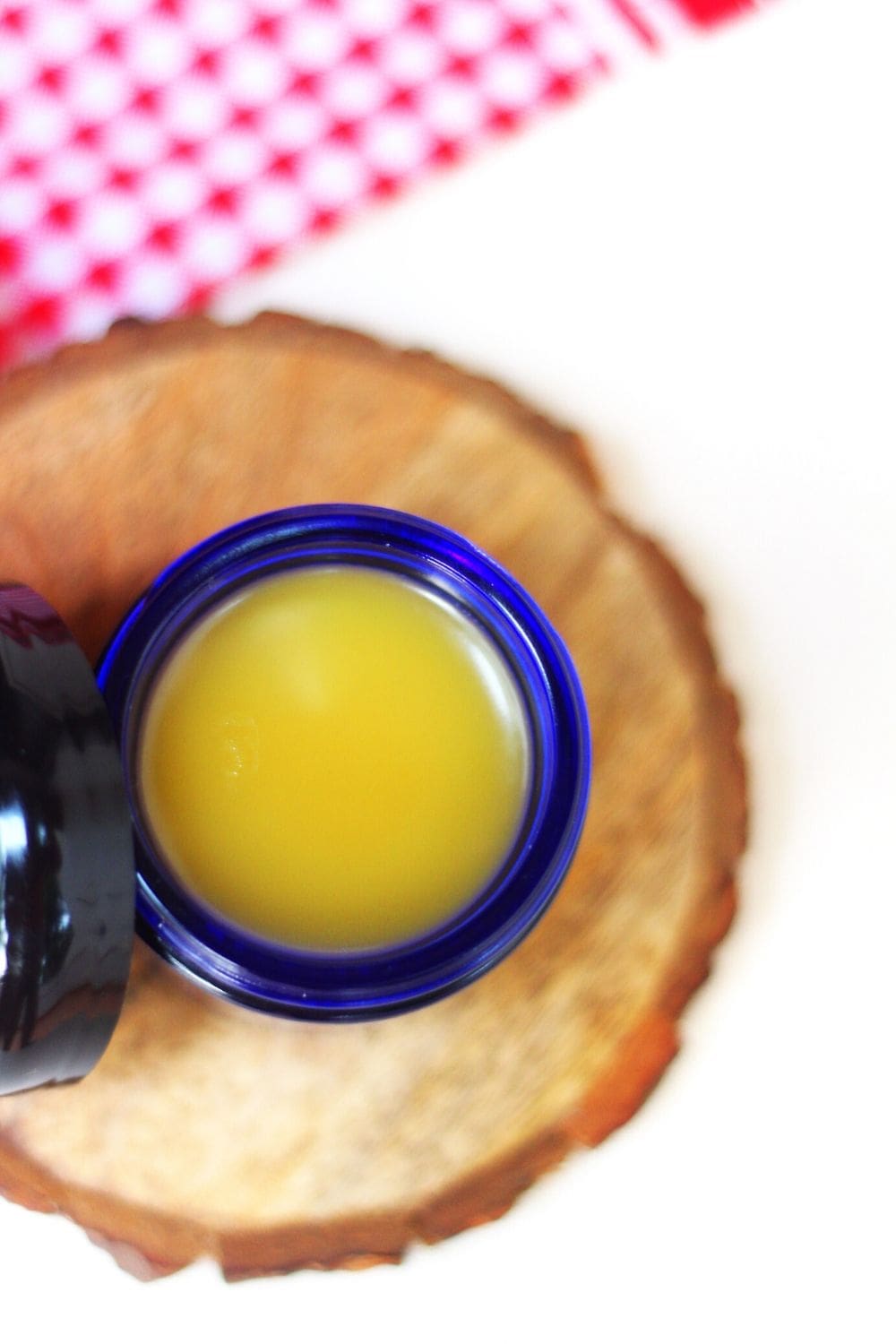 DIY Coffee Under-Eye Cream For Wrinkles, Dark Circles, And Puffy Eyes
Apply this DIY coffee under-eye cream for reducing dark circles, wrinkles, fine lines, puffy eyes. Infused with coffee this DIY under-eye cream moisturizes and nourishes your skin to give you firm, beautiful and younger-looking eyes.
Ingredients
For making coffee-infused oil
3-4 Tablespoon Coffee Ground
Jojoba Oil
For making eye cream
½ Teaspoon Beeswax
2 Tablespoon Shea Butter
3 Tablespoon Coffee-Infused Jojoba Oil
1 Teaspoon Rosehip Seed Oil
3 Capsules Of Vitamin E
10 Drops Frankincense Essential Oil
Instructions
Process To Make Coffee Infused Oil
The first step is to infuse jojoba oil with ground coffee.
Now, add ground coffee to a jar, then just enough jojoba oil to cover the coffee grounds.
Close the jar properly and let it sit for 4-5 days or a week to infuse.
Now, strain the infused oil into another jar or a clean bowl using a cheesecloth. Squeeze as much of the oil out as you can.
You can keep this coffee-infused oil for a year in an airtight jar.
Process To Make Coffee Under-Eye Cream
Take a glass bowl and add shea butter to it. Put the glass bowl in a saucepan filled with a few inches of water. Heat the saucepan till the shea butter melts using a double boiler system.
When everything gets melted remove it from heat.
Now, add coffee-infused oil, rosehip oil, frankincense essential oil, and vitamin E oil into the bowl and mix well.
Store it in an airtight glass jar at room temperature or keep it in a fridge to get thickened.
How To Use
Wash your face with a cleanser before you apply eye cream. Do this whether you are using it as a night cream, a day cream, or both.
After washing and drying your face, apply any serums or toners that you use. The under-eye cream should be the last thing that you apply in your skincare routine.
Now, pat the cream onto the area under your eye.
Gently massage the eye area with your fingertips slowly.
Allow your skin to absorb the cream. If you feel that your eye cream stings your eyes, you might be applying it too close to bedtime. Try putting it on earlier in the evening so it has time to absorb.
Make sure to avoid the eyelids always.
Notes
1. You can keep this under eye cream for about 2-3 months but make sure to not let the water get inside. Water can introduce bacteria that can spoil the mixture.

2. This coffee under-eye cream contains essential oils so do a patch test before applying it to the face.

3. Keep the eye cream away from sunlight.

4. If you have tree nut allergies, you should avoid shea butter or shea butter products.
---
Conclusion
Having dark circles and puffy eyes makes you look like you haven't slept in days. It looks unflattering, and people resort to using sunglasses to hide their eyes. But with this under-eye cream, having the benefits of natural and effective skin-friendly ingredients like coffee and essential oils, you can get rid of wrinkles, dark circles, and puffy eyes and say hello to beautiful eyes.
Have you applied a coffee under-eye cream before? If so, do share your experience with me in the comments below.
---
If you liked this post, pin it.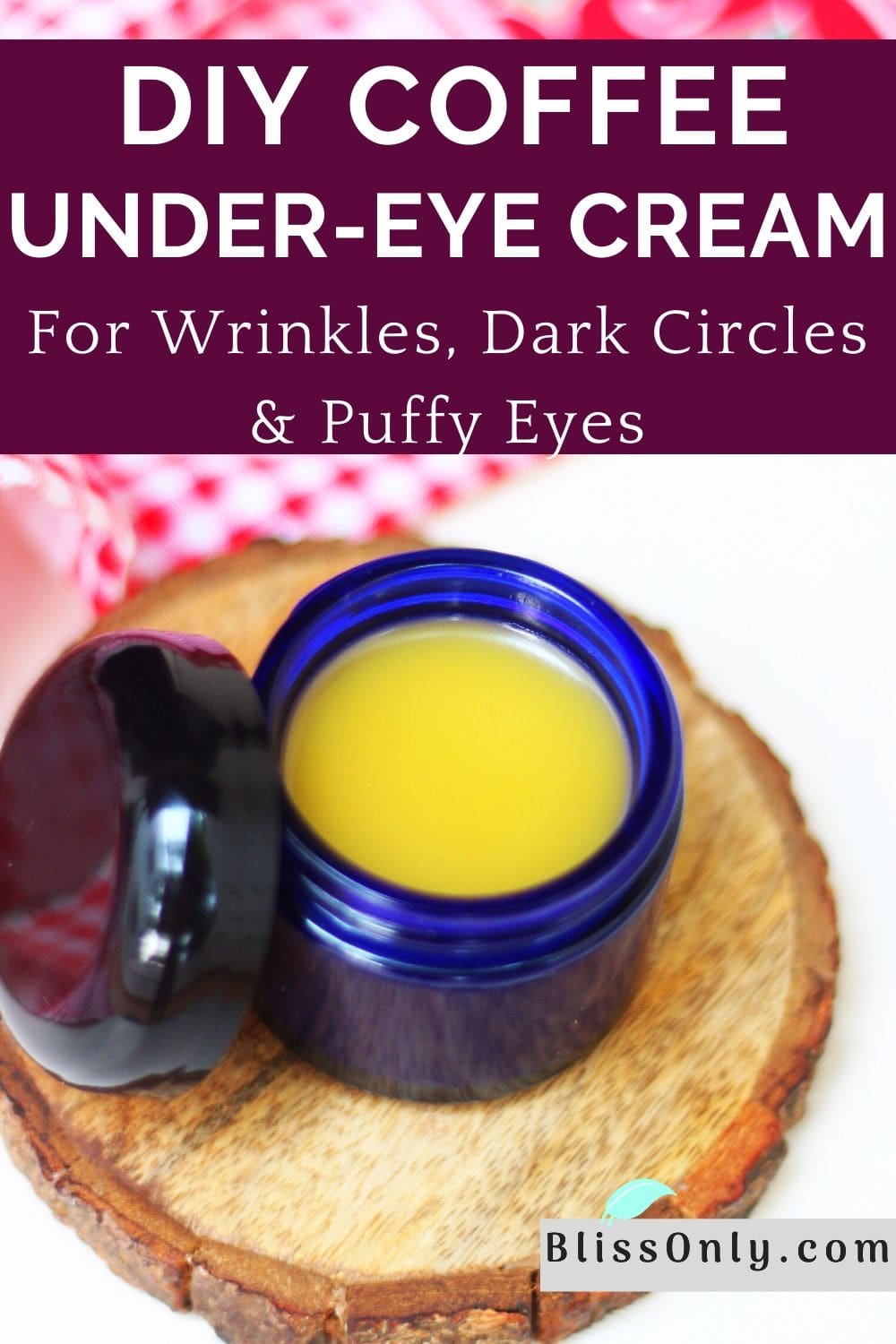 ---