DIY Coffee Under-Eye Cream For Wrinkles, Dark Circles, And Puffy Eyes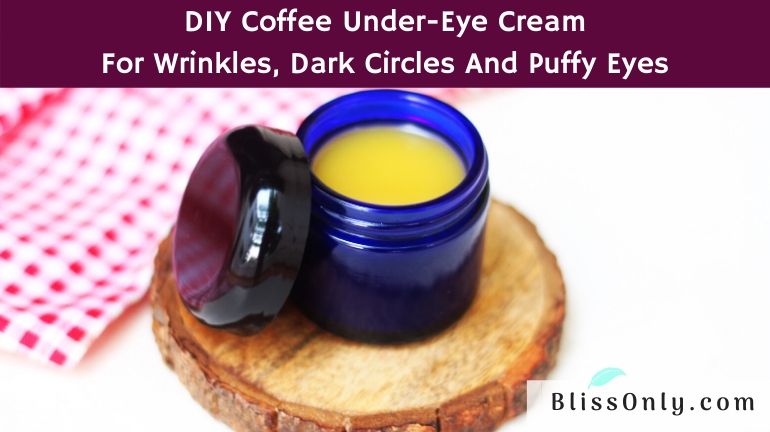 3-4 Tablespoon Coffee Ground
Jojoba Oil
½ Teaspoon Beeswax
2 Tablespoon Shea Butter
3 Tablespoon Coffee-Infused Jojoba Oil
1 Teaspoon Rosehip Seed Oil
3 Capsules Of Vitamin E
10 Drops Frankincense Essential Oil
The first step is to infuse jojoba oil with ground coffee.
Now, add ground coffee to a jar, then just enough jojoba oil to cover the coffee grounds.
Close the jar properly and let it sit for 4-5 days or a week to infuse.
Now, strain the infused oil into another jar or a clean bowl using a cheesecloth. Squeeze as much of the oil out as you can.
You can keep this coffee-infused oil for a year in an airtight jar.
Take a glass bowl and add shea butter to it. Put the glass bowl in a saucepan filled with a few inches of water. Heat the saucepan till the shea butter melts using a double boiler system.
When everything gets melted remove it from heat.
Now, add coffee-infused oil, rosehip oil, frankincense essential oil, and vitamin E oil into the bowl and mix well.
Store it in an airtight glass jar at room temperature or keep it in a fridge to get thickened.
Wash your face with a cleanser before you apply eye cream. Do this whether you are using it as a night cream, a day cream, or both.
After washing and drying your face, apply any serums or toners that you use. The under-eye cream should be the last thing that you apply in your skincare routine.
Now, pat the cream onto the area under your eye.
Gently massage the eye area with your fingertips slowly.
Allow your skin to absorb the cream. If you feel that your eye cream stings your eyes, you might be applying it too close to bedtime. Try putting it on earlier in the evening so it has time to absorb.
Make sure to avoid the eyelids always.
1. You can keep this under eye cream for about 2-3 months but make sure to not let the water get inside. Water can introduce bacteria that can spoil the mixture.

2. This coffee under-eye cream contains essential oils so do a patch test before applying it to the face.

3. Keep the eye cream away from sunlight.

4. If you have tree nut allergies, you should avoid shea butter or shea butter products.
Recipe by
BlissOnly
at https://blissonly.com/diy-coffee-under-eye-cream-for-wrinkles-dark-circles-and-puffy-eyes/