You must have been aware of the fact of how much banana is important to keep our body healthy. But did you know banana is as beneficial for our skin as it is to our overall health? It has vitamin A, vitamin C, potassium, iron, and magnesium. These are much-needed vitamins and minerals in order to get naturally glowing and healthy skin.  Since banana is so much beneficial for the skin, I could not resist myself to make a banana face mask. So in this post, I am going to share my easy recipe for the DIY banana face mask.
Now before heading down to the recipe let me explain why this banana face mask works to make your skin glowing and healthy.
---
Benefits Of Banana Face Mask
This DIY banana face mask is made with banana, oatmeal, honey, and yogurt.  Now besides banana, the other three ingredients in this recipe provide their own benefits to your skin. So let's take a look at why this banana face mask is so much effective.
Banana
It is a rich source of potassium which makes it great a natural moisturizer for your skin. The rich potassium content of banana helps hydrate as well as moisturize your skin. So if you are troubled with dry, flaky skin, using a banana face mask will help you get soft and smooth skin.
Banana has powerful antioxidant properties thanks to its vitamin A and vitamin C content. These two vitamins work as antioxidants and fight damage-causing free radicals. On the other hand, vitamin C also improves the collagen levels in your skin. This improves the elasticity and firmness of your skin. Hence reduce the appearance of fine lines and wrinkles.
It is a great exfoliant for the skin. It helps remove excess sebum(oil), dead skin cells and impurities clogging your skin pores. This helps clear your skin and make it naturally glowing.
Banana is very effective in treating acne. It contains vitamin A which helps reduce inflammation as well as control excess production of sebum(oil) in your skin.
It is also a great home remedy for fading acne scars and dark spots. Its high vitamin C content promotes the cell regeneration process which allows the skin to heal quickly. Since vitamin C is also a powerful antioxidant, it is able to fade dark spots and other pigmentations by inhibiting the overproduction of melanin production. Hence using a banana face mask helps you get even skin tone.
---
Oatmeal
Oatmeal is very soothing for your skin. It is a humectant which means it attracts moisture from the air and retains it in your skin. This makes your skin soft and plump.
It contains antibacterial and anti-inflammatory properties that help in treating acne. It also relieves irritation and itching or any other skin infections.
Oatmeal is very beneficial for oily skin too. It absorbs excess sebum(oil) from the surface of the skin without drying it. It also exfoliates your skin by removing excess oil and dead skin cells. This makes your skin clear and healthy.
---
Honey
Honey is packed with antioxidants which makes it effective in slowing down skin's natural aging process. This helps keep your skin youthful
It has antibacterial properties that kill harmful bacteria living on your skin. This helps protect your skin from various infections and make your skin healthy.
Honey is also a natural humectant just like oatmeal. It replenishes the lost moisture in your skin and rejuvenates dry and dull skin.
---
Yogurt
Yogurt is a very natural moisturizer for the skin. It not only hydrates your skin but also prevents moisture loss due to its rich calcium content. Calcium works with the epidermis(the thin outer layer of the skin) to produce sebum which helps the skin retain moisture.
Scientific study also suggests that facial packs or masks containing yogurt improve moisture, brightness, and elasticity of treated skin(source).
It contains lactic acid which is one of the most popular alpha hydroxy acids (AHAs) for the skin. It exfoliates your skin by removing dead skin cells which allow the skin to keep newer and healthy cells at the surface. This improves your skin's appearance.
The rich lactic acid content of yogurt also works as an anti-aging agent. It is very effective in reducing fine lines and wrinkles.
---
How To Make DIY Banana Face Mask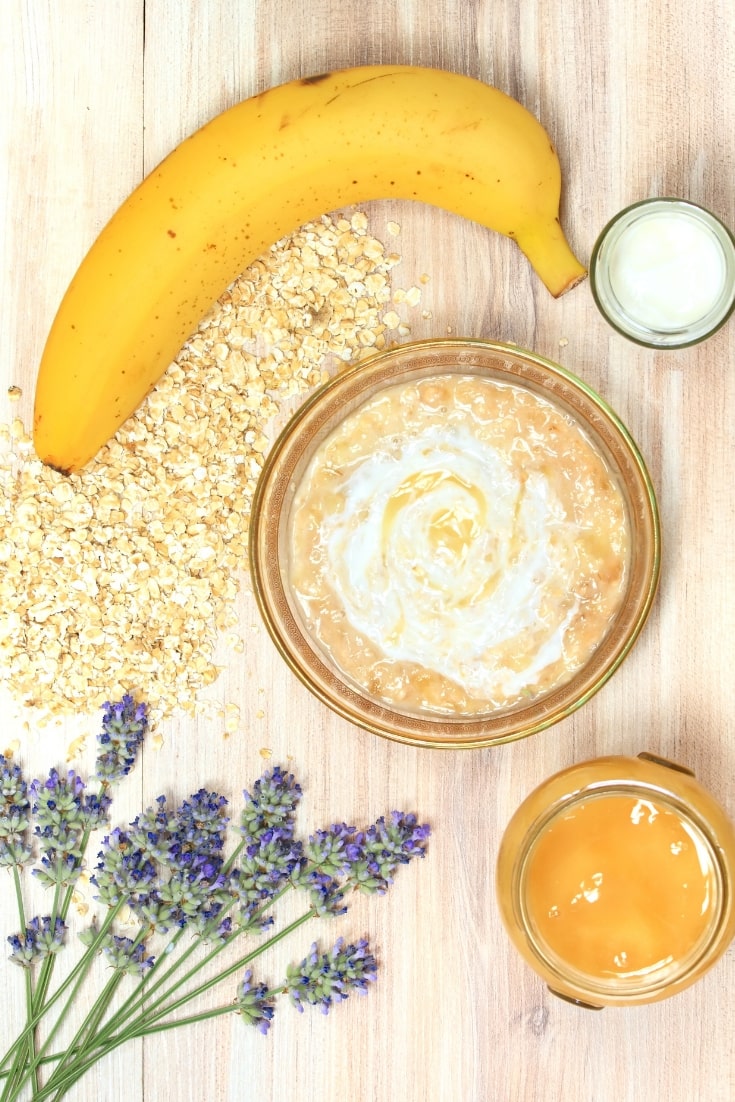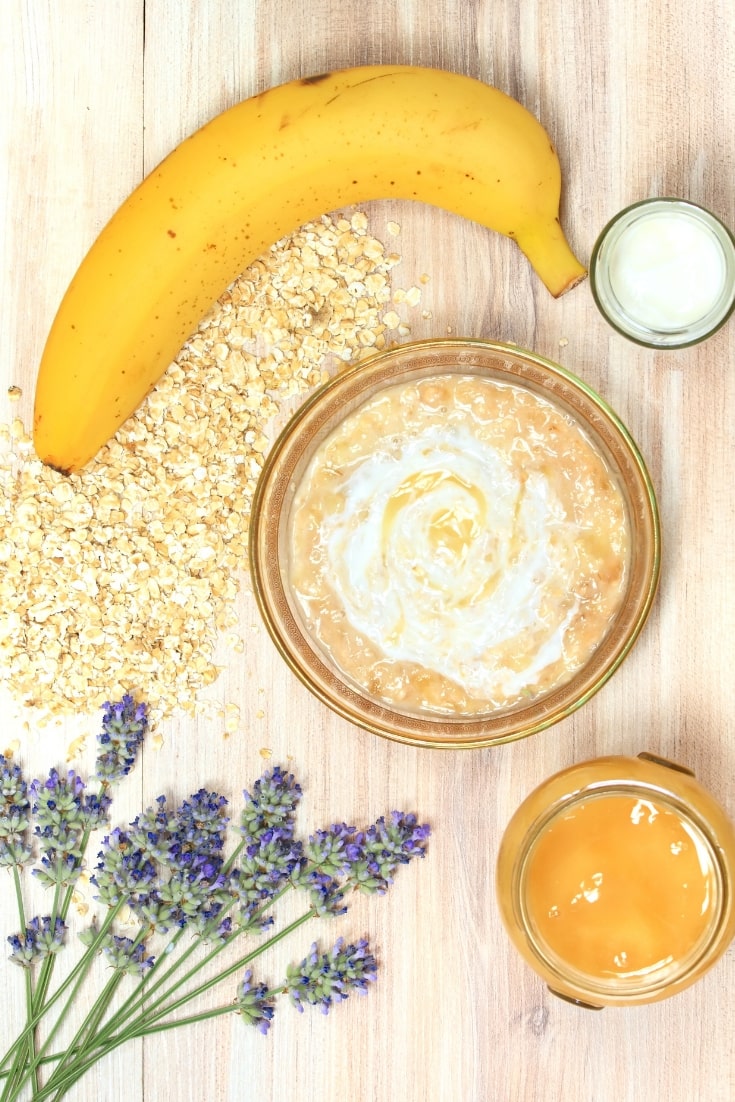 DIY Banana Face Mask For Clear And Glowing Skin
Make your skin clear and glowing with this DIY banana face mask. It works great for reducing wrinkles, treating acne, moisturize dry skin, and many more.
Recipe type: Banana Face Mask
Cuisine: DIY, Beauty
Ingredients
½ Ripe Banana
3 Tablespoon Oatmeal
1 Tablespoon Honey (Buy Here)
2 Tablespoon Yogurt
Instructions
Peel off the ripe banana and using a spoon crush the banana in a bowl. Make sure to remove all lumps.
Now add oatmeal, honey, and yogurt.
Mix all the ingredients properly until it is smooth.
How To Use
Now apply the face mask to your cleansed face and gently massage your skin for 2-3 minutes.
Keep the mask on for 10-15 minutes then rinse it off with normal water.
Repeat it 2-3 times a week for best results.
---
Banana is full of essential vitamins and minerals that nourish your skin and make it healthy. Its exfoliation properties clear your skin off all impurities and dead skin cells which makes your skin clear and naturally glowing. Thus including a banana in your skincare routine will do wonders for your skin. Now you have got the recipe for the DIY banana face mask then start using it right away.
Did you like this banana face mask recipe? Please let me know in the comments down below.
---
If you liked this, pin it