Leave-in conditioners are one of the most important hair products. They not only provide extra moisture but also repair dry and damaged hair. Ultimately, helping you achieve strong, shiny, and gorgeous hair. So, here I am with a super-nourishing recipe of DIY Leave-in Conditioner For Dry And Damaged Hair. Keep reading this article to know the full recipe along with step-by-step instructions.
---
Why Is This Leave-In Conditioner Effective For Dry And Damaged Hair?
The reason why this hair balm is effective in repairing damaged hair is its ingredients. Its ingredients are full of vitamins and essential nutrients that make your hair soft, smooth, and shiny.
Not only that, applying this hair balm regularly will help in stimulating hair growth too. So, let's dive deep into why it works so well on dry and damaged hair.
Shea Butter
It is a rich source of vitamins A and E that repair damaged hair and split ends. It also works to make your hair stronger, moisturized, smooth, and manageable.
Shea butter has excellent emollient properties that lock in moisture without making your hair greasy and heavy.
It is very effective in the soothing dry and irritated scalp. It has anti-inflammatory properties that reduce dryness and treat scalp damage.
BTMS – 50
BTMS-50 is widely used as an emulsifier in hair care products. It works as a detangling agent and absorbs well into skin and hair strands. Hence making your hair soft, and silky.
Cetyl Alcohol
Like BTMS-50, cetyl alcohol is commonly used in making natural hair products. It hydrates as well as moisturizes hair.
It also seals the hair cuticle, leaving a softer, silkier finish.
Beeswax
Beeswax contains vitamin A and moisturizes your hair. It is very effective in locking the moisture and helps repair split ends.
Apricot Oil
Apricot oil is one of the best carrier oil for dry and damaged hair. It contains oleic acid that works as an emollient and makes your hair softer.
It also absorbs moisture from the air to help maintain that barrier of hydration.
Coconut Oil
Coconut oil contains lauric acid that penetrates into the scalp and repairs hair damage.
It has various fatty acids that seep deep into the hair and soothes dry and damaged hair.
Argan Oil
Argan oil is a rich source of vitamin E that improves blood circulation on the scalp. This helps in stimulating hair follicles for hair growth.
It also moisturizes your hair and scalp and protects your hair from damage.
Peppermint Essential Oil
Peppermint oil is one of the most essential oils for hair growth. It is even backed by scientific research for promoting hair growth(source).
It contains menthol that stimulates blood circulation in the scalp. This helps in encouraging healthy hair growth.
It has powerful antiseptic properties that protect your scalp from harmful bacteria and fungi.
---
How To Make Leave-In Conditioner For Dry And Damaged Hair?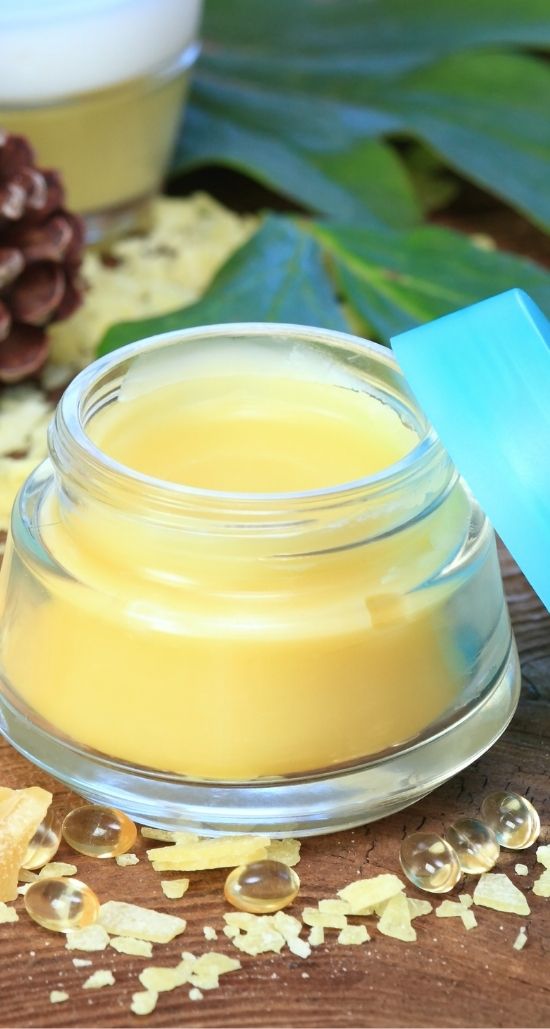 DIY Leave-In Conditioner For Dry And Damaged Hair
This leave-in conditioner nourishes your hair from the inside, moisturizes, and repairs dry and damaged hair to make your hair soft, smooth, and shiny.
Recipe type: Leave-In Conditioner For Dry And Damaged Hair
Cuisine: DIY, Beauty
Instructions
Clean your container and all utensils properly before making this. You can clean with hot soapy water and swab with rubbing alcohol and let the air dry.
Prepare a double boiler by adding a few inches of water to a large pan. Now, heat the pan on a low flame.
Take a heat-safe glass container, then combine the BTMS-50, and cetyl alcohol and place the container in the pan containing water.
Now, add beeswax and shea butter into the glass container.
Add coconut oil, argan oil, vitamin e oil, and apricot oil into the container.
Stir occasionally until everything is melted and combined.
Now, remove the glass container from the pan and add peppermint essential oil, then mix well.
Immediately pour the oil mixture into a glass or tin container and let this mixture cool until it's room temperature.
How To Use
Take out a tiny amount of conditioner and apply it with your fingers through the ends of your hair to tame frizz.
Notes
1. Make sure to do a patch test before applying any essential oil products.

2. You can use different oils according to your needs but don't replace BTMS-50 and cetyl alcohol. It will reduce the conditioning effect of hair balm.

3. Cetyl alcohol does not contain any type of harmful alcohol. It is derived from vegetable oil and it will not make your hair dry and crunchy.
---
If you liked it, pin it