In today's world where we all busy in our daily routine, we barely get some time to take care of our hair. Eventually, this lack of proper hair care leads to many hair related issues like hair loss, thinning hair, dandruff, split ends, breakage and more. So, here I am with the best DIY Hair Growth Serum recipe that will help make your hair healthy and beautiful.
This DIY hair growth serum is made with some best carrier oils and essential oils for hair. All of these natural oils will not only help you get rid of various hair problems but also encourage thick and strong hair growth. Besides, it just takes 5 minutes to makes this amazing hair growth serum. So, you don't carve extra time out of your busy schedule to make it. Keep reading to know more.
---
Benefits Of DIY Hair Growth Serum
Aloe Vera
Aloe vera is a rich source of vitamin B12 which helps in the formation of red blood cells. This, in turn, boosts hair growth.
It contains proteolytic enzymes that help with the healing and repairing of damaged follicles. Its anti-inflammatory properties reduce inflammation and soothe the aggravated scalp.
Argan oil
Argan oil is one of the best natural hair conditioners. It contains linoleic acid(omega-6 fatty acids) that hydrates your hair and also seals the moisture in your hair shaft. This helps you tackle issues like dry, brittle and frizzy hair.
It is a rich source of vitamin E which is a powerful antioxidant that revitalizes scalp cells to stimulate hair growth.
Olive Oil
Often, free radicals damage hair follicles which lead to hair loss(source). Just like argan oil olive oil contains vitamin E which is an antioxidant that neutralizes free radicals. Therefore helps in treating hair loss.
It moisturizes the scalp. This helps relieve dry, flaky and itchy scalp.
Avocado Oil
Avocado oil contains oleic acid(omega-9 fatty acid) which deeply moisturizes your hair. It also nourishes your hair follicles and strengthens your hair shaft. This helps treat split ends, breakage and damaged hair.
It also has folic acid which is very effective in preventing premature graying(source).
Rosemary Essential Oil
Rosemary oil is one of the best essential oils for hair growth. It encourages blood circulation in the scalp. This allows your hair follicles to receive oxygen and other necessary nutrients to stimulate thicker hair growth.
Peppermint Essential Oil
Just like rosemary oil, peppermint oil also works to improve blood circulation in the scalp. Hence boost hair growth. It also stimulates dormant hair follicles for hair re-growth.
Peppermint essential oil is also backed by science when it comes to hair growth. As per a study conducted to investigated the effect of peppermint oil on hair growth in mice, it was found that the topical application of peppermint oil on mice for four weeks resulted in hair growth. There was also a significant increase in dermal thickness, follicle number, and follicle depth(source).
Clary Sage Oil
Clary sage oil contains antibacterial and antifungal properties that help treat issues like dandruff and clogged follicles.
It contains linalyl acetate which is very effective in increasing hair growth. It also balances sebum(oil) production in the scalp. This means it is good for both oily and dry scalp.
---
How To Make DIY Hair Growth Serum For Thick & Long Hair
Ingredients
Directions
Take a glass bottle and then add aloe vera gel and argan oil, avocado oil, olive oil using a funnel.
Now add essential oils carefully to the serum bottle.
Shake gently to combine all the ingredients.
Make the partitions of your hair and apply the serum on the scalp.
Keep it overnight and wash it off with organic shampoo.
Repeat it 2-3 times a week.
Precaution
Although this DIY hair serum is very beneficial but it must be applied by taking the following precautions.
Be sure to do a patch test to make sure your skin does not have an adverse reaction to the oils.
Keep the glass container of hair serum away from sunlight.
Pregnant women, infants, and young children should avoid certain essential oils. So make sure to consult your medical practitioner beforehand.
Do not put essential oils in your eyes, ears, nose or mucous membranes.
---
If you liked this post, pin it.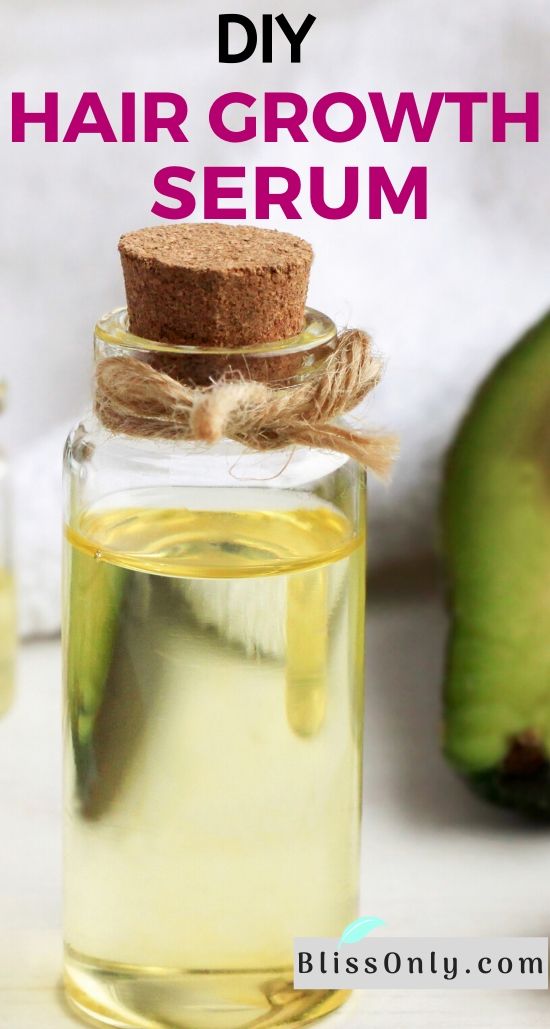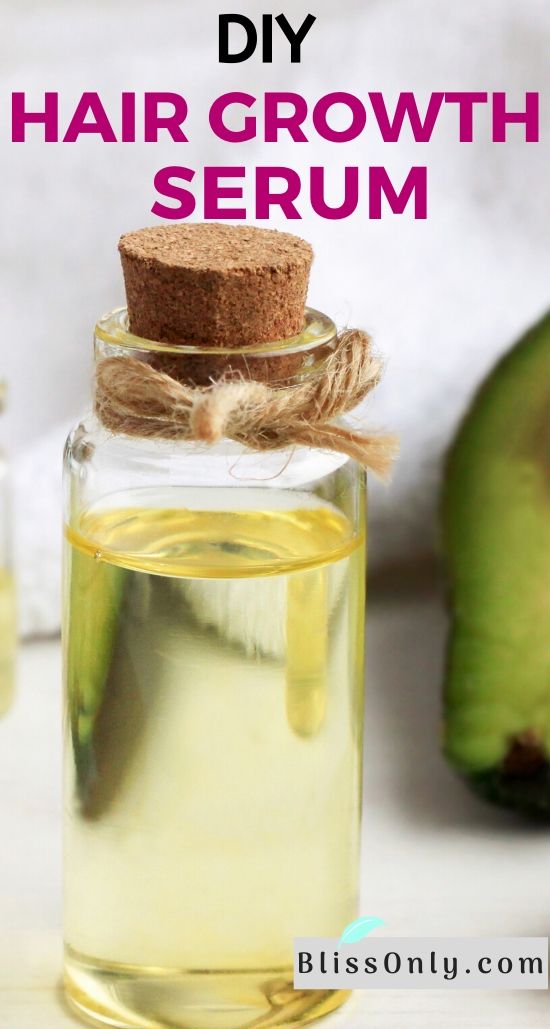 ---