Frankincense Whipped Body Butter For Dry Skin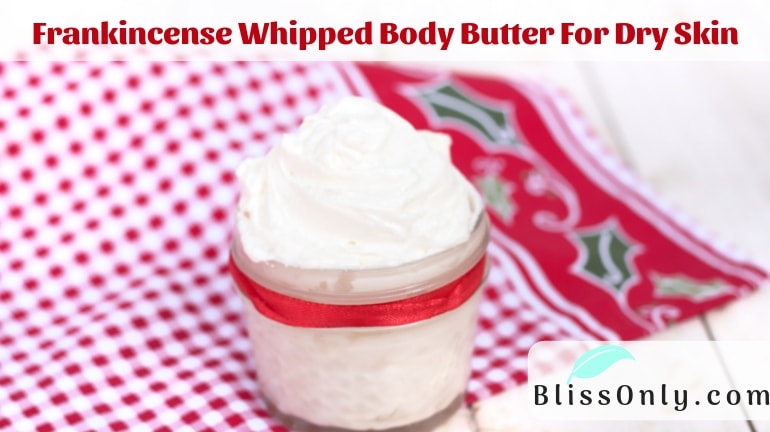 Recipe type: Whipped Body Butter
Cuisine: DIY, Beauty
Take about an inch of water into the pan and begin heating it up on the stove using medium heat. While the water is heating up, add shea butter and coconut oil in a bowl.
Now place the bowl in the pan containing warm water. The warm water will start melting the shea butter and coconut oil. This method of melting the mixture is well known as a double boiler system.
Remove the bowl from the pan when the mixture is completely melted. let the mixture cool until it's opaque or you can put it in the fridge to speed up cooling. But don't let it solidify completely because if it's too hard, it just won't whip.
Now add the melted oils, argan oil, almond oil. frankincense essential oil and lavender essential oil to the bowl.
Start whipping using a hand mixer. Whip until the ingredients are well combined and the mixture is light and fluffy.
Now if the body butter can stick to a spoon when held upside-down then you are finished with whipping.
Then add frankincense essential oil and lavender essential oil and mix again with the hand mixer.
Transfer your DIY whipped body butter in an air-tight glass container or jar. Make sure to keep it in a cool place.
Now you are all set to use this frankincense whipped body butter and get rid of dry skin.
Apply it whenever needed.
1. Sterilize all your containers, jars, glass jars, and bottles that you use for making and storing this body butter.

2. Try to patch test your recipe before using it. Simply rub a little bit of body butter on your neck behind the ear and leave for 24 hours. If there is no reaction after this time you are good to use it.
Recipe by
BlissOnly
at https://blissonly.com/frankincense-whipped-body-butter-for-dry-skin/